Did you know that the first restaurant in the world was founded in France in 1789 and named Delicious? Historically, not much about Delicious survives scrutiny. Hysterically, it does pretty well on the comedy meter. It is generally thought that the first restaurant opened in Paris in 1765. On the front of the building is engraved a phrase that translates to "Come to me, those whose stomachs ache, and I will restore you." Delicious will remind you of movies like The Hundred Foot Journey and The Lunchbox, two of my favorites. Come and celebrate food in an exotic setting.
Set on the cusp of the French Revolution, filmed beautifully in France, Delicious cooks up some amazing dishes as the writers imagine the first restaurant. First, you must endure le duc de Chamfort as you must endure French subtitles. He understands that "a man without a cook is a man without friends." But, he also thinks "cuisine is not for mere mortals. One must know how to eat." As we stir up class snobbery, let's mix in some sexual condescension, too, as cook Pierre Manceron mansplains to Louise, "cuisine is a man's vocation. Women don't understand it." Of course, being French and being in a movie, this only sets up the romantic tension yet to come. I give Delicious 4.0 Gavels and it receives a 100% Rotten Tomatoes rating with a solid 7.0/10 IMDb score.
Plot
Pierre Manceron is quite happy as the cook for Duke Chamfort. The Duke appreciates fine food and the cook appreciates the Duke's fine palate. If a meal for visitors from Versailles goes well, the Duke will take Manceron to Paris with a chance to cook for the King. When the Bishop refuses to eat an appetizer made with the lowly potato, to avoid embarrassment, the Duke demands Manceron apologize. Refusing, the stubborn Manceron soon finds himself the owner of a rundown inn in the countryside. A woman (Louise) with a past shows up and demands to be an apprentice cook. Does Manceron have the vision? Will Manceron listen to Louise? Will travelers pay for "real meals?"
Actors
Neither Isabelle Carre nor Gregory Gadebois likely registers on your radar. Yet, as Louise and Manceron, both have such chemistry you soon forget about subtitles. They may speak French, but their facial expressions talk food and fun. At times, it's like watching a cooking show but with better production values. Admittedly, his grill (see picture above) mimics the finest The Cooking Channel has to offer.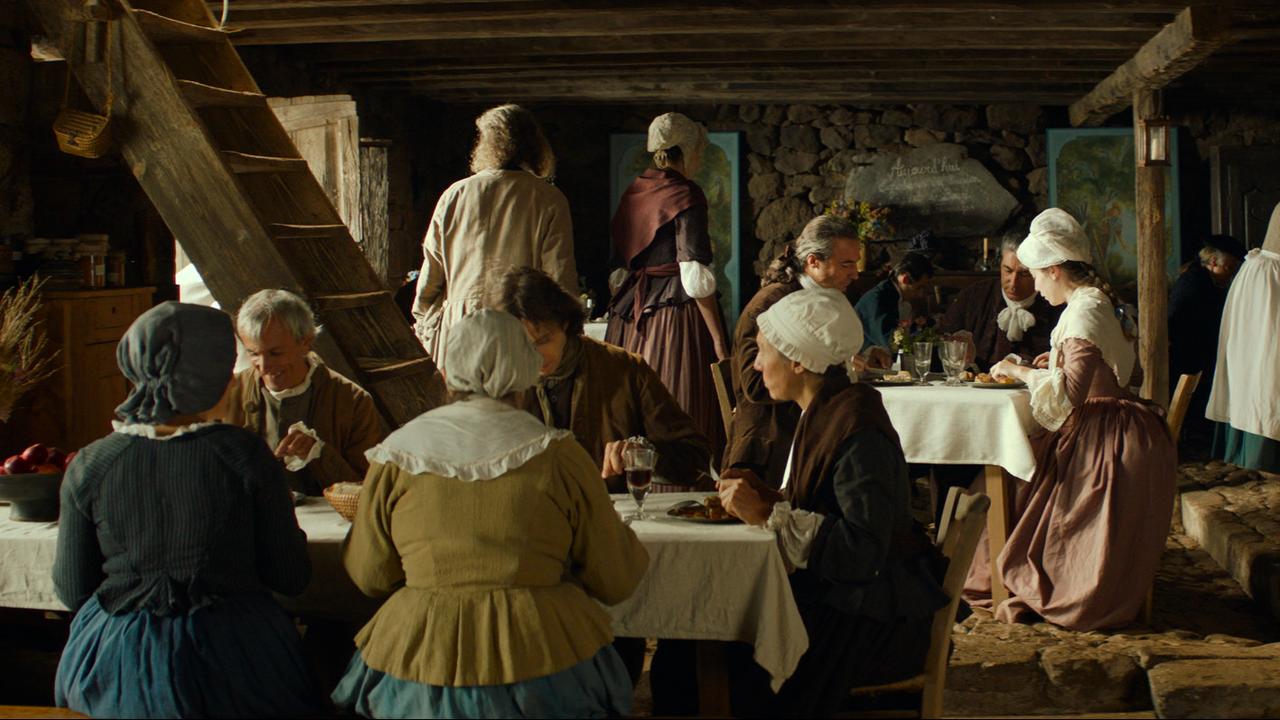 Final Thoughts
Delicious, the Inn where everyone eats according to their desires and their means. Naturally, all customers are dukes at Delicious. All in all, it's quite amusing as Manceron and Company discover buffets, individual tables, better wine, and finally the maitre d'. Finally, stick around for the playful flour fight at the end.
"Full marks must go to whoever prepared the food for the film, as well as to cinematographer Jean-Marie Dreujou whose beautifully framed and lit work is a major contribution to this admittedly conventional yet richly enjoyable glimpse into the past." The Australian
"Should your New Year's watching require the occasional break from grim awards fare and grimmer real-world news, you could do a lot worse than this well-intentioned tale of mirthful mouthfuls and other appetites." Los Angeles Times
I found this little gem on Amazon Prime. Delicious is a little tongue-in-cheek merriment from a country that takes their food very seriously.