Few seem to realize the irony of me getting Mrs. TMJ tickets to see Josh Groban for Father's Day. She'd leave me in a heartbeat for Josh Groban, or Michael Buble, for that matter. After declining to climb to the steepest heights in the pouring rain to see Garth Brooks, what's a guy to do? So, it's off to Riverbend we go on an absolutely gorgeous Saturday evening to see Josh and Company. After a couple of years without live entertainment, one easily forgets the enjoyment of the experience, the excitement and anticipation of the crowd. On just the second stop of his Harmony Tour, Josh Groban brought the energy, playing piano and drums, singing in Italian and Spanish, as well as channeling Joni Mitchell and Neil Diamond.
For those interested, the Harmony Tour visits the Ruoff Music Center in Noblesville, Indiana June 23rd and the Blossom Music Center in Cuyahoga Falls on June 29th. You will not regret taking your significant other. After two years without an audience, Josh Groban said he was going to be "chatty," and he was. Some may feel differently, but I prefer the performer who connects with the audience, shows their personality, rather than just sings. The Harmony album released November 20, 2020 (you guessed it, Mrs. TMJ has it). He advises never release an album during a pandemic. Although this is a decidedly older audience, the Josh Groban groupies were present, one younger fellow wearing a Josh F—ing Groban T-shirt. I give the concert 4.5 Gavels.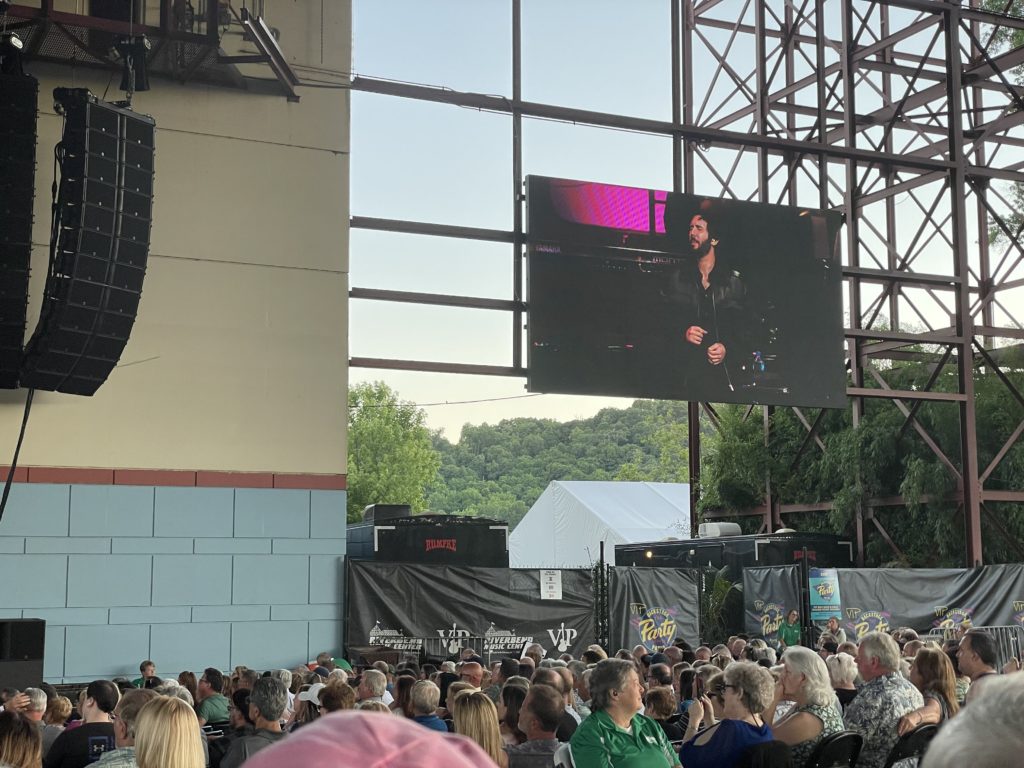 Notable Moment
Arriving onstage wearing a black jacket, a curious choice for a summer evening, Josh dedicated the performance to first responders. Then, pointedly, he thanked all the teachers, especially the art teachers, in the crowd. As a shy kid, it was his music teacher, Richard Barrett, that pulled him from the back of the class and told him he had a voice. It made all the difference. His parents bought him a drum set at age 14. Teachers allowed him access to the music room during free periods. While these folks opened a pathway, Josh Groban did the work, displaying talent on multiple instruments, in multiple languages, in an eclectic display of music.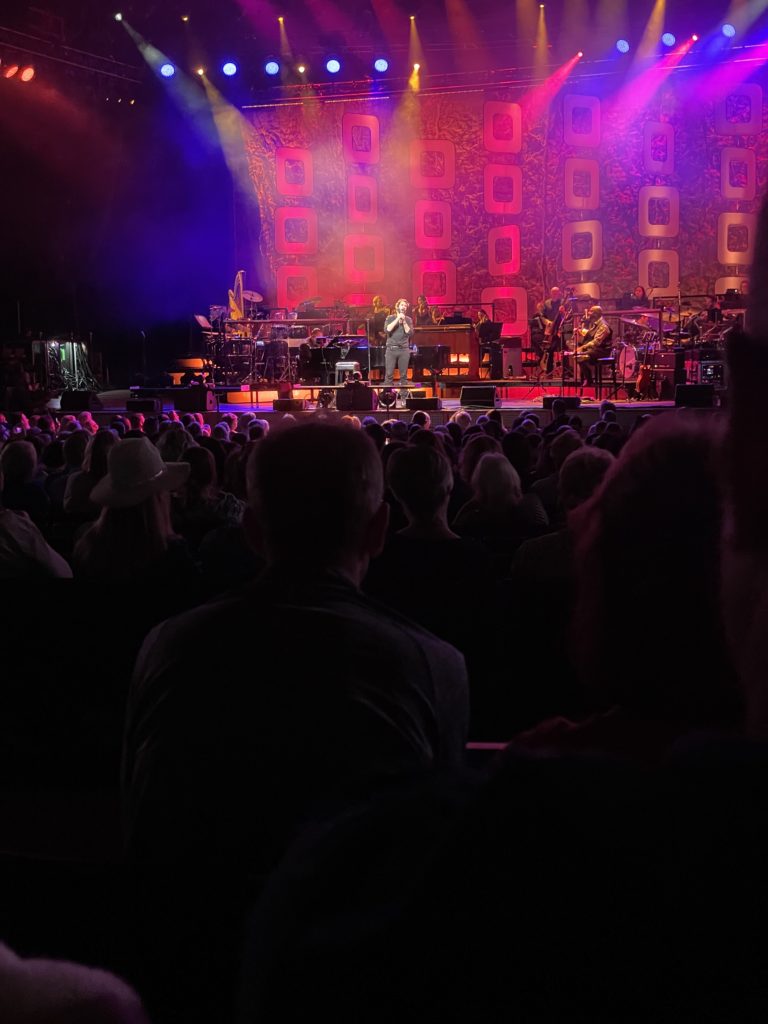 Performers
Clearly mentoring others as he had been assisted, Eleri Ward opens the show. A year ago, she's recording Stephen Sondheim songs in her closet, now she's in front of 10,000 people. Next, we get Jazz from the Preservation Hall Jazz Band, direct from New Orleans. A perfect choice to lead-in, they had many in the audience up and dancing on their feet. To showcase his range of musical interest, Groban incorporates violinist Lucia Micarelli into his portion of the show. Her range of talent includes singing, but she also has acting credits.
Final Thoughts
For those who who wonder, where's The Movie Judge in all this? Never fear. In 1999, Josh Groban hears the song "She" in the film Notting Hill starring Hugh Grant and Julia Roberts. It's on the Harmony album and heard early in the show. Another favorite from Love, Actually is Both Sides Now, performed as a duet with Ms. Micarelli.
"Very few artists have a career as expansive as Josh Groban's. Touching on adult contemporary, rock, musical theater and several genres in between, the multi-platinum singer-songwriter's mid-aughts popularity has made him a household name without cornering his work into a watered-down, radio-friendly box – in recent years receiving nominations for Tony Awards, Emmys and Grammys." Cincinnati Enquirer
"A voice like no one else's" say the critics. And, after 25 years of performances, he knows how to entertain. Overall, an evening well-spent.