Now that you already have your next Jurassic World ticket for June 10th, it's time to bone up on the latest science with Prehistoric Planet. Seen over five nights this week on AppleTV+, hopefully you've caught an episode or two, divided into Coasts, Deserts, Freshwater, Ice Worlds, and Forests. These will be dinosaurs like you've never seen before, moving like we've never witnessed. The computer-generated imagery is so lifelike that Jurassic World Dominion will be put to the test. "Lifelike" is always the goal, yet our knowledge of dinosaurs changes so much over the years that "up-to-date palaeontological research" is out-of-date by the time it reaches the screen.
Have you ever seen a T-Rex swim? David Attenborough (Life in Color), narrator, let's us in on a secret. They are effective swimmers. How often to you root for the T-Rex and its young, chased by a Mosasaur, one of the largest predators of the sea? In Zealandia, the Tuarangisaur swallows rocks for ballast and to aid digestion. Not long after, she gives birth to a 10 foot long baby that will live for another 80 years. That is, if a Kaikaifilu doesn't eat it first. In other words, if the names don't put you off, prepare to be mesmerized by Prehistoric Planet. It's a fight for survival. I give the documentary 4.0 Gavels and its receives a perfect 100% Rotten Tomatoes rating with a 9.2/10 IMDb score.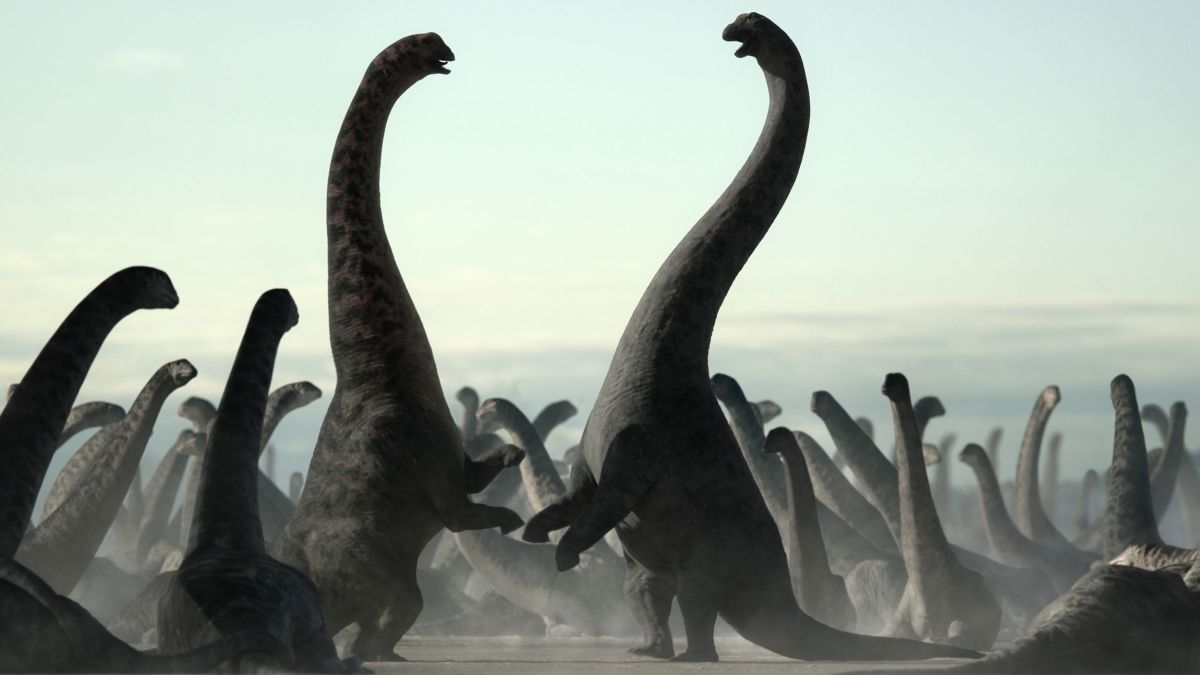 Plot
Welcome to the Late Cretaceous period, some 66 million years ago. Titanosaurs, 85 feet long weighing 40 tons, roam the Earth. Tarbosaur, a desert T-Rex, prowls areas that might reach 140 degrees in the summer. Duck-billed Barsboldia travel long distances without water, a Cretaceous camel, if you will. No nomads in sights for millions of years, however. But, those darn Velociraptors are around, in numbers, with that distinctive claw. And, don't forget the hadrosaurs, traveling at night to avoid the unforgiving heat.
Actors
If produced by the BBC, who else but David Attenborough could narrate? Born in 1926, he approaches the age of dinosaurs, save a few million years or so. In all seriousness, Attenborough has the air of authority in his voice, sort of the Walter Cronkite of nature. Not one to rest at age 96, he has at least two more programs in the hopper.
Final Thoughts
Although the little ones love dinosaurs, be aware that Prehistoric Planet presents the weak, the small, and the slow getting eaten. The Titanosaurs in battle resemble sumo-wrestlers, banging bodies one against the other.
'It's an impressive and visually audacious feat to behold, one that gains more documentary cred from landing the highly regarded Sir David Attenborough as narrator." San Jose Mercury News
"Prehistoric Planet is a stunning feat of CGI. The dinosaurs look as real as any animal you see in a wildlife documentary. This is the point." Daily Telegraph (UK)
Each episode is only 40 minutes long. Now, bring on the Pachyrhinosaurus and Nanuqsaurus. How about we name the next dinosaur Fred?