The Billion Dollar Code implicates Google in the theft of the patent which gave us Google Earth. Similar to The Social Network and accusations of proprietary theft against Steve Jobs and Bill Gates, is this the way of technology? While The Billion Dollar Code is based on a true story, it is also a fictional adaptation. Still, the story of Terravision and Art+Com gets its facts from court transcripts and interviews with "the losers." It's a story as old as the computer age. The little guy innovates; the behemoth offers cash with no intent to buy, then steals the technology. Since the cost of a patent jury trial is $10 million and the "accepted" offer was less than that number, no law firm will take the case, the damages being capped. The Billion Dollar Code claims, over the years, Google made lots of offers and never once paid.
Why pay if you can steal and get away with it? The Billion Dollar Code is a compelling four-part series on Netflix. An art student and a group of hackers come up with an idea to fly around the world and land on a location, virtually. Except, it's technically impossible. Thankfully, a remnant of the Soviet past, Deutsche Telekom still has the requirement to invest in technological innovation. And, the Telekom needs a project for next year's show in Kyoto. With no staff, no equipment and no name, Carsten Schuter and Juri Muller convince Telekom to give them 1,000,000 marks in 1993. Where can you get pictures of the complete mapping of the Earth? Hackers just might find them at NASA. Now, it's a race to develop technology never before created. I give The Billion Dollar Code 4.0 Gavels and it receives an 8.1/10 IMDb score.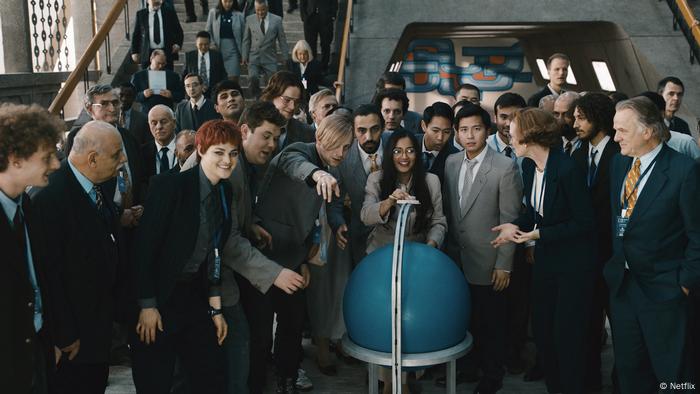 Plot
By 1994, Carsten and Juri are the toast of the world. Terravision now lauded as one of the 50 greatest achievements of the computer age, Brian Andersen of Silicon Graphics invites them to his campus in the U.S. . Bonding with Juri as soulmates, Brian offers him a job in California. A drunken night at a music festival in the desert with Brian turns out to be a big mistake. Returning to Germany, Carsten and Juri as Art+Com need $5-7 million marks to convert Terravision for use on a PC. Investors see little commercial use for Terravision, and Art+Com approaches bankruptcy. Then, they see Google Earth, an exact duplicate of Terravision. The legal maneuvering has just begun.
Actors
As this is a German production, accurate information as to the actors is hard to come by. On Netflix, you can both get The Billion Dollar Code dubbed in English and have subtitles. Lea Hauswirth, lead attorney for the plaintiffs is very good. She has an eccentric set of clients who haven't spoken to each other in years. Will she be able to get them on the same page? Witness prep is fun.
Final Thoughts
Being nearly computer illiterate, I still found The Billion Dollar Code interesting, educational, and entertaining. Find out why Google offers Google Earth for free. Watch as the airlines refuse to consider putting small screens behind every seat. Who would ever think of booking a hotel by computer?
"The first episode plays out very similarly to the early episodes of Halt And Catch Fire. . . It's also a lesson in how the first to do something might not be the ones who make the most money doing it (just ask the founders of Yahoo, or the developers of Alta Vista)." The Decider
"Billion Dollar Code kicks things off with a brilliant first episode, one that combines the intrigue and high stakes court case of The Social Network with an interesting real-world account of what happened with Google Earth. Of course, these tech companies are no stranger to stealing ideas from others and in some cases will aggressively sue anyone who gets in their way or objects to their copyright infringement (oh, hello Disney.)" The Review Geek