The Father Who Moves Mountains is the type movie the viewer will have a love-hate relationship. You will love your first visit to Romania and the Bucegi Mountains. Part of the Carpathian Mountains, the vistas are striking with steep slopes. A cable car links The Silva Hotel (both prominently featured) and the Babele Chalet. As the Chief of the Mountain Rescue Team puts it "the mountain has its own laws and they are harsh. Chasms, crags, stones falling out of nowhere, and slippery ice will throw you off a cliff." But, to what ends would you go to rescue your son?
Now available on Netflix, The Father Who Moves Mountains aka Tata Muta Muntii, is both dubbed and subtitled. The Romanian actors appear stiff by our standards, although I'm certain we lose much in the translation. What you will hate is the ending. Listed as a drama and thriller, tragedy is more appropriate. Missing for more than a week in blizzard conditions are not conducive for survival for Cosmin Jianu and Daniela Simien. The lingering unknown crushes the parents of both young students. As their fate becomes more and more apparent, the writers can't find a satisfactory conclusion. Like Mircea Jianu, father of Cosmin, we are left digging in the snow. While this may have artistic merit, The Father Who Moves Mountains flunks emotional appeal. I give the film 3.0 Gavels and it receives an 80% Rotten Tomatoes rating (only five reviews) and a 5.5/10 IMDb score.
Plot
The Mountain Rescue Team receives a frantic 911 call from Daniela Simien that she and her boyfriend are lost. Former intelligence officer Mircea Jianu and friend, Laurentiu, race to the scene. Their offer of help is declined as the Jepii Marii and Jepii Mici trails are both closed for the winter. A blizzard with 100 km/hr winds approaches. After the weather clears and warms, the dangers of avalanche increase dramatically. Jianu calls in a favor. Former intelligence associates bring a helicopter and triangulation equipment to locate cell phones. Hope is still present.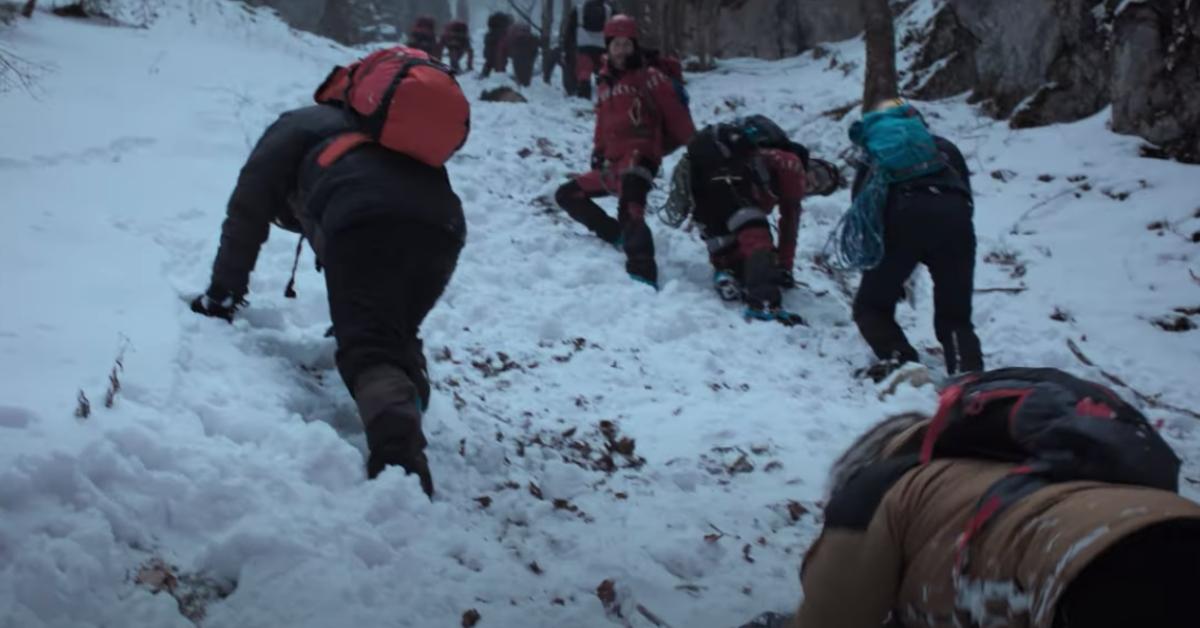 Actors
None of the actors are likely to be familiar to Americans.
Final Thoughts
The viewer learns that Mircea separated from Cosmin's mother some years before and still suffers guilt over it. Work apparently took him apart from his wife for long periods of time. Yet, after 109 minutes, we know little of Mircea's life story. Just what did he do? How important was he that Filip would risk an unauthorized, illegal operation to try to rescue Cosmin? What debt was now paid? The Father Who Moves Mountains is not moved enough to fill us in.
"A rescue in-the-snowy mountains tale…that summons up memories of Romania's bad old days, the Ceausescu police state where having power meant the rules were different for you." Movie Nation
"The scenery and cinematography on display are gorgeous and lush. The rest of the elements of The Father Who Moves Mountains, unfortunately, are quite underwhelming and disappointing." Common Sense Media
The Hollywood Reporter writes "shooting took place over three winters while the crew waited for blizzards and avalanche opportunities." That required patience and it paid off. Mircea could not afford such patience, not knowing the fate of his son and girlfriend. In the end, did he cross the line by putting others at risk when all was already lost? A rescue mission turns into a moral play.