"When the lights go down, we're all here for the same thing, waiting for the magic to begin." That, my friends, is the essence of High Strung Free Dance. Now on Netflix, this film is so wonderfully unexpected, it bombards you with song and dance of all varieties. Truly, at times, you get the feel of being at a Broadway show.
Although somewhat of a love triangle, the plot here is secondary. Such as it is, the story really advances mostly via the next song and dance. Typically not a fan of this structure, it works in High Strung Free Dance. I challenge you not to smile as they jam at a music store. Try to remember when you have seen NYC this colorful. All your senses come alive. I give the movie 4.0 Gavels and it currently has a 90% Audience Score, too few critic reviews to mean much.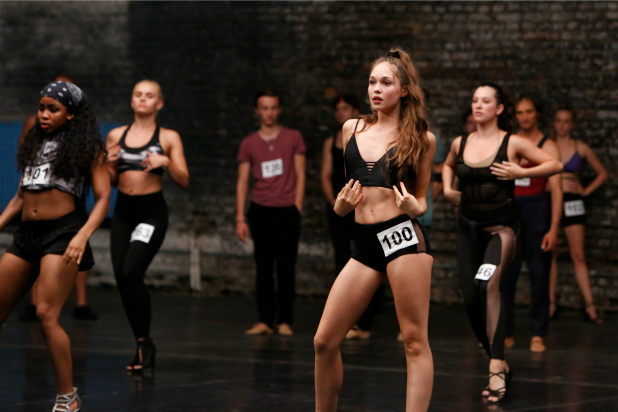 Plot
Barlow, a telephone marketer, rejected at dance audition after dance audition, finally lands a a spot in Free Dance World Tour. Zander, director and choreographer, prefers Barlow in the lead role but the producer demands a name star. Charlie, deli deliverer, can't get a job to display his piano skills. That is, until Zander's vehicle runs over Charlie and his bicycle. Throw in a diva, Kayla Jordan, and the sparks start to fly. Zander is willing to take a risk, but just how much?
Actors
With all the sexual tension between Thomas Doherty (High Fidelity) and Juliet Doherty, one would assume they are related. They are not. But, as Zander and Barlow, they relate perfectly, polished dancers both. The bio of Harry Jarvis tells us that he taught himself to play the piano for the part of Charlie. Reportedly, he learned 18 different pieces for the film. Looking as lovely as ever, 69 year-old Jane Seymour has a small part as Barlow's mother.
Final Thoughts
Madame Rose Latour, an ill-defined part if there ever was one, tells Charlie that Broadway is "a life of triumph and agony, joy and heart break," an apt description for the film. ReelTalk Movie Reviews states "High Strung Free Dance simply bowled me over. It's a must-see movie for all dance fans! Think A Chorus Line meets 42nd Street." CommonSense Media parrots my impression writing that "sensational music/dance numbers rise above so-so romance." Beautiful dance, beautiful music, and beautiful people sums this one up pretty well.