Schitt's Creek is the reverse-Beverly Hillbillies. Despite eighteen Canadian Screen Awards, I've avoided this show because its name sounds like . . . Let's just say I like my humor a little more subtle. For example, the Mayor's name is Roland Schitt. If you didn't get the pun, say it real fast, over and over, eventually you will. Then again, I've never been a big fan of Eugene Levy's low-brow (or should I say big bushy-brow) brand of comedy, either. He is the only actor to appear in all eight American Pie movies.
Created, produced, and starring Eugene and his son, Dan, Schitt's Creek receives a 92% average Rotten Tomatoes rating and a 95% average Audience score across six seasons. Despite all, these annoying characters get under your skin, in a good way. Perhaps, it's the quirky residents of Schitt's Creek who smooth out the rough edges in their "less-worldly" ways. I give Season One 3.5 Gavels and it received just a 64% Rotten Tomatoes rating that year.
Plot
The Feds raid Johnny Rose's palatial estate after his business manager fails to pay taxes. The Rose family is left with one asset, the town of Schitt's Creek, purchased as a gag birthday gift. Lives are turned upside-down as the family now lives in two run-down motel rooms. Room service is not available, nor is kale. Deadpan motel clerk Stevie Budd does not suffer fools lightly.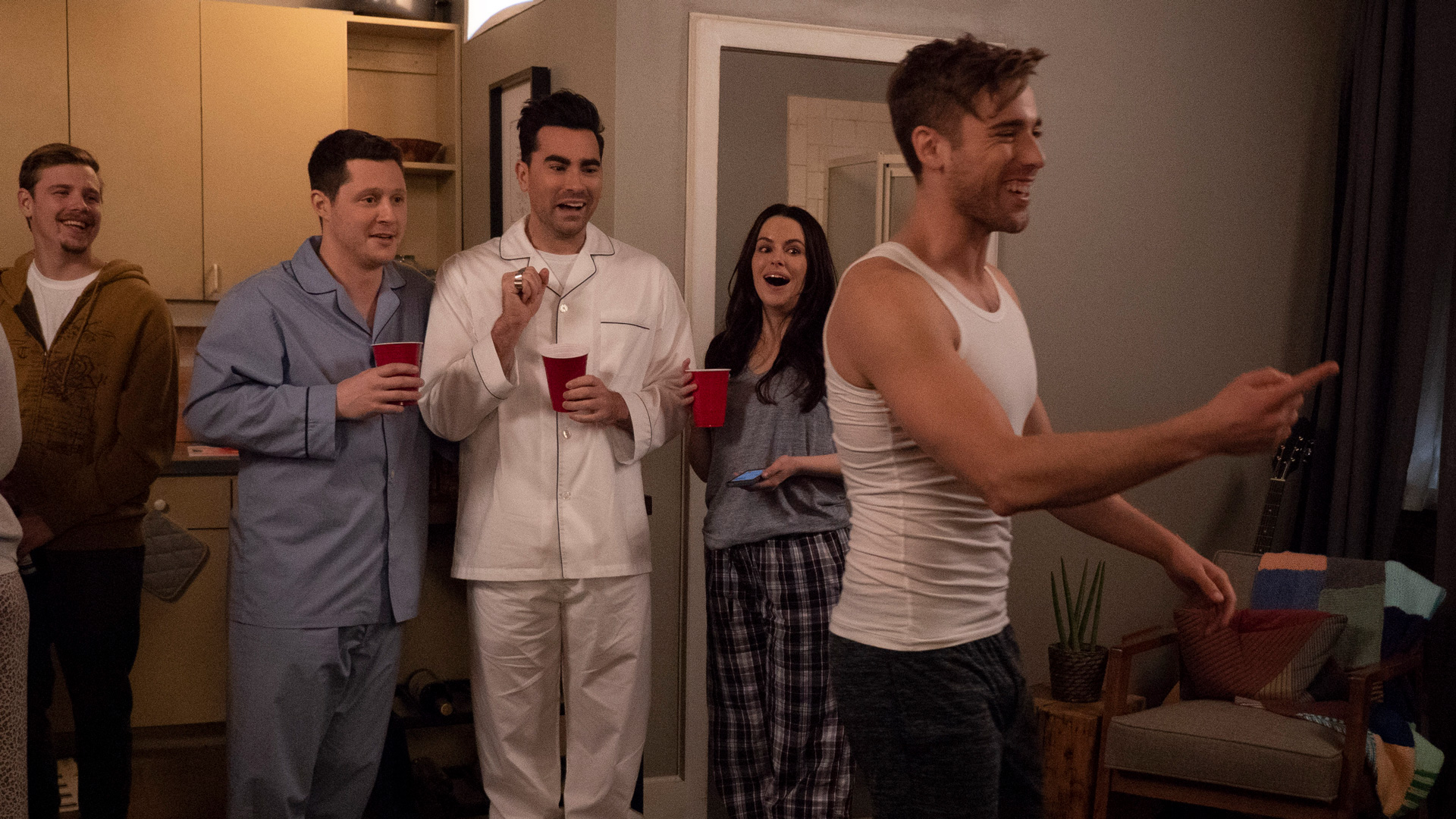 Actors
Besides Eugene and Dan Levy, as pompous patriarch Johnny Rose, and flamboyant son David Rose, the show also features real-life daughter/sister Sarah Levy as a waitress. That's what's called "keeping it in the family." Catherine O'Hara is another of those instantly recognizable character actors, here as clueless, mother Moira Rose. Spoiled, air-head daughter, Alexis Rose, is played wonderfully by Annie Murphy.
Final Thoughts
What is it about the shows like Schitt's Creek that keep us coming back? Do we feel a sense of moral superiority? Do we just like the silly, mostly obvious, gags? As one critic notes "from the moment Schitt's Creek begins, it already feels lived-in, with an instant commitment to its own tone of sophisticated ignorance." Another writes "after opening with a salvo of lighthearted Green Acres-esque comedy, the back half of Schitt's Creek snuck in something a little dark and more damaged… propelling it far above any initial expectations anyone could've had about the show." As you might expect, the title faced some hesitation in the series development, and later in its promotion. In the end, it turns out there are lots of Schitts in Canada. Overall, this one is better-than-expected, as long as you keep your expectations under control.