If your name is Haralambos Karountzos, to get the girl you must change your name, be the producer, director and writer, and be the leading man. Faith, Hope & Love is a little My Big Fat Greek Wedding about an Odd Couple who wish to be Dancing With The Stars to a John Legend tune. None of this should work except, somehow it does. For years, Hollywood shows the nerdy star wooing the much younger beautiful starlet. Here, our re-named Robert Krantz appeared in Back To The Future one year before Peta Murgatroyd was born.
Our heroine owns a dance studio and must win a Pro-Schmo dance contest to save it. Our hero is a widower with two daughters. As she helps the older daughter with her make-up for the prom, she casually remarks that all faces are perfectly imperfect, a line that we hear several more times. Above all, this is a love story with lots of faith, music, and dancing tossed in. Like many an independent movie, it's kind of quirky, but fun. I give Faith, Hope & Love 4.0 Gavels and it receives an 80% Rotten Tomatoes rating with an 88% Audience Score.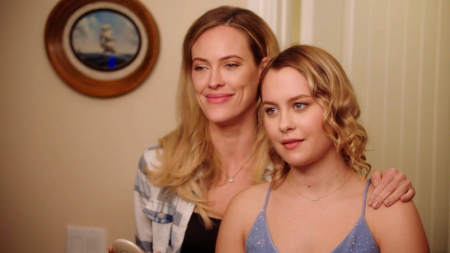 Plot
Demetra asks God for her dad, Jimmy Hope, to enter her teacher's dance contest and fall in love. After all, it's been three years since her mother died in a car accident. Divorcee Faith Turley has little luck with men, and is certainly not interested in another dance romance. He gives her dating advice, she gives him insight into retaining a client, all the while preparing for the waltz, tango, hip-hop, quickstep, and samba. But as she tells him, "Dancers get real close, but we never kiss!" Right!
Actors
Robert Krantz is our erstwhile Greek, Jimmy, sort of geeky like Jim Nabors, also with that great smile. For Dancing With The Stars fans, Peta Murgatroyd puts on some terrific moves as Faith. Well done for her first movie role. It is always the kids that steal your hearts. No different here for Natasha Bure as Gia and Aria Walters as Demetra.
Final Thoughts
Quite a few dance scenes in Faith, Hope & Love are on the rooftop with nice views of Los Angeles. Moreover, be ready to learn Greek. For example, Jimmy's real last name is Elpida which didn't work in his business world. In Greek, Elpida means hope, hence Jimmy Hope. As an added benefit, the flick throws in a little history about Emperor Constantine. You might even shed a tear or two as you discover why Jimmy can never be a "casual Christian" ever again. As one critic writes "even if you go in expecting to cringe and roll your eyes, you end up smiling at and rooting for its endearing characters." Jimmy and Faith know ICXC NIKA and so does this film.
Schedule of Upcoming Reviews
Thursday April 16 — The Nomads
Friday April 17 — Alias Grace
Saturday April 18 — The Mire
Sunday April 19 — Bad Day For The Cut
Monday April 20 — Spinning Out
Tuesday April 21 — Bosch – Season Six
Wednesday April 23 — Love Wedding Repeat