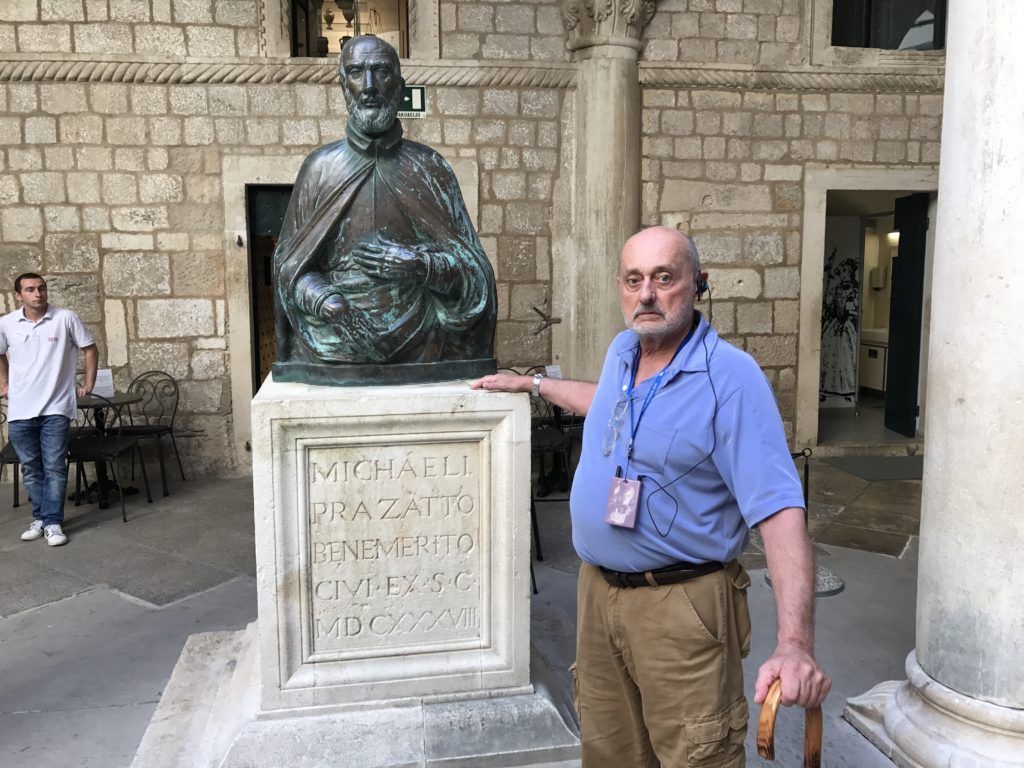 Forgive me if some of my facts are wrong, but they are my memories, frail as those may be. Yesterday, I received a punch to the gut, not literally, but figuratively. I learned my friend, our friend, everyone's friend, Bill Fowler, passed away earlier this week while on a cruise through the Panama Canal. It was appropriate that Bill was a Christmas baby, actually December 24th, as he had a Santa Claus laugh. Not in the sense of Ho-Ho-Ho, nor in a fat, belly roll manner, but his whole body shook at a joke. And, more often than not, it was Bill telling us of a humorous event of his day. We will miss his ability to convey a story.
Bill and I first crossed paths in 1975. Our first jury trial, as opponents, centered on a Christmas burglary in the Morrow area. In the very tiny courtroom in the Old Courthouse, presided over by Judge Dan Fedders, evidence (read that recovered Christmas gifts) strewn all over the floor, we had to tiptoe our way to the bench. Given the recovery of property in his client's residence and a confession, the jury returned a verdict of guilt in nine minutes or so. No great jurisprudence on either side, but we now had experience. Little did we know that, in less than two years, we would be in the same practice together, office side-by-side.
Doubtless, all will have a Fowler story to tell, he was that kind of guy. For those of you who only knew him the last few years with a bad hip, I remember him as a solid athlete. After all, his brother played basketball for Bowling Green with Nate Thurmond. Not recruited by the Falcons, Bill attended Ohio University. Bill possessed a sweet, left hand shot, although Judge Bronson often teased him about whether his initial little hop was legal or not. And, who can forget the legend of six errors in one inning in a summer softball game. Then, again, who puts a left-hander at second base? For the record, the seventh ball hit to him that inning was cleanly fielded but, alas, the first baseman, so certain of continued ineptitude, failed to cover his base. Bill, self-deprecating as ever, enjoyed this tale as much as the rest of us.
Another of Bill's favorite yarns was a County Court bench trial in front of Judge Paul Herdman. The charges were Disorderly Conduct, Resisting Arrest, among others. On cross-examination, Bill sought to prove that his client wasn't resisting, rather the officer roughed him up.
Bill: You hit him over the head with your flashlight, didn't you?
Officer: No, sir, I didn't.
Bill: Well, if you didn't, how did he get those stitches in his head?
Officer: I don't know. I assume the doctor put them there.
Once in a while, people ask who you would rather sit down and have a beer with, this movie star or that president? I suggest you choose Bill. Well-read, eclectic in his taste of music, he'll converse on any topic. Of course, as a family man, a sprinkling of his daughter, Katie, and grandchildren, are bound to pop up. A proud husband, father, and grandfather was he. You are much loved. Nothing can replace his love for you, nor should it. He will always be by your side, in your thoughts. He is irreplaceable.
My only other attempt at this type of remembrance was for Jerry Williams. He passed away September 2017, just after Bill, Bev, Lois and I returned from a wonderful two week trip to Croatia. Like Jerry's daughter, Katie also attended high school with my son. Bill and Jerry lived across the street from each other. On Earth, put the two together, and love and laughter would abound. Now, in afterlife, I am certain they have found each other, regaling the other with fond stories of family and friends, perhaps over a heavenly beer, and are at peace. Bev, Katie, and the rest of the Fowler family, our thoughts are with you.
Rest in peace, Bill Fowler. Rest in peace.