Intrigued by the advertised "Father of Jazz," I wondered how Bolden could fly so far under the radar. And, not only my radar, but this movie is rated by only seven critics, plus just five audience members. Surely the music of Wynton Marsalis would propel this film into the stratosphere! No such luck. Just how does a filmmaker mess up a once-in-a lifetime chance like this. The opening tells us that "not much is known about the life of Buddy Bolden." Then it proceeds to make up 108 minutes about his life. It is known that he was committed to an asylum and the flashbacks are likely purposefully schizophrenic. It makes Bolden tough to follow. I give the movie 2 Gavels and it receives a 71% Rotten Tomatoes rating with a 40% Audience score.
Plot
Buddy Bolden plays the trumpet like no other; he is King Bolden. The black community rocks to his music, but he needs more to survive financially. Enter Bartley, who promises as his manager to get him in front of white audiences. Bolden is somewhat paranoid about others stealing his music. Alcohol, drugs, and racism send him down the wrong path.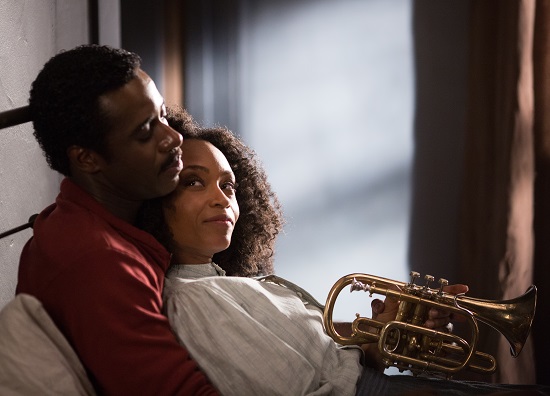 Actors
Gary Carr is Bolden. His acting is noteworthy, his pretend trumpet skills not so much. Erik LaRay Harvey makes a wonderful, slippery manager. Ian McShane is always terrific but his part as a Judge in this movie is ill-defined. Reno Wilson is impressive as Louis Armstrong.
Final Thoughts
Jazz fans should buy the soundtrack and skip the flick. The end number which combines the trumpets of Bolden and Armstrong is very well done. Except that, of course, no one alive has ever heard the trumpet of Bolden. Any recording(s) of Bolden are lost for all time. Given the alcohol, drugs and illness, the director's take is very dark. Add beatings and explicit nudity, both at times gratuitous, and this is not a film for the squeamish. It is to the producers' credit that they sought to make a film to honor Buddy Bolden. Yet, it seems a disservice to fill in the blanks with assumption after assumption according to the "political and social context" of the time. This film adds little to his legacy except we now know his name.