Cold War is the beautiful Polish Foreign Language Film nominee to the Oscars; Never Look Away is its German counterpart. Perhaps a movie that exposes the Nazi requirement that the mentally ill be murdered in order to purify the race is intended to have something of a split personality. Or, is it because the real-life subject, German painter Gerhard Richter, would not cooperate with the filmmakers?
Nevertheless, this is a gorgeous film. At 188 minutes, it has something for everyone. For travelers, Dresden looks amazing. Academics will enjoy the historical transition from Nazis to Communists. And, this may be a must-see movie art lovers, especially the last 90 minutes or so. I give this movie 4 Gavels and it receives a 75% Rotten Tomatoes rating with an 85% Audience score.
Plot
Kurt wants to be an artist. His 23 year old aunt takes him to exhibitions telling him "Never look away; if it is truth, it is beautiful." She is schizophrenic and a Nazi doctor orders her death. Years later, Kurt enters art school in Dresden, falling in love with Ellie. Ellie's father, the responsible culprit, is now under the protection of a KGB general. As Kurt chafes under the stifling artistic demands of the East Germans, the doctor loses his benefactor. Both look to West Germany for a new beginning.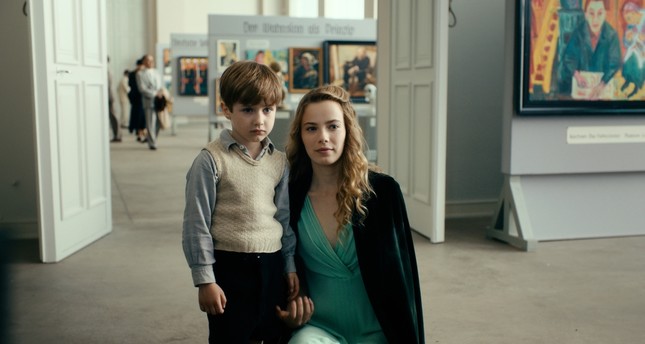 Actors
Tom Schilling is Kurt, certain that he will find his place in the art world, but where? Paula Beer (shown below) as Ellie, supportive of Kurt but under the thumb of her dad. Sebastian Koch steals the show as the monstrous doctor. You've seen him in Homeland, The Danish Girl, and Bridge of Spies, among others. Finally, Saskia Rosendahl is the dear aunt (shown above). It will tear out your heart as the Nazis rip her away from her family.
Final Thoughts
Like Cold War, the critic for The Washington Post says, Never Look Away "is one of the most mesmerizing, compulsively watchable films in theaters right now." Kurt finds his artistic niche as he remembers his childhood and his aunt. For me, that was a stretch too far. The use of the aunt to tie up the two ends just seems too pat. Still, the horror/art juxtaposition is powerful. The time flies. If you don't mind subtitles, this is a good one!
Rating: R (for graphic nudity, sexuality and brief violent images)