Why would anyone want to go to Greece?  Let's see:
The cradle of Western Civilization.
Plato and Aristotle – Fathers of Western Philosophy
Greek islands
Greek food
Culture
Are you aware that in 1944 Katina Paxinou was honored with the Best Supporting Actress Award for For Whom the Bell Tolls.  What are some famous Greek movies or movies made in Greece?
No list can begin without Anthony Quinn and Zorba the Greek.  Four nominations for Academy Awards, and later a nomination for a Tony Award as Best Musical, this is a classic.  The movie has an 86% Rotten Tomatoes rating.
Until 2016, My Big Fat Greek Wedding (2002) was the highest grossing romantic comedy film ever.  While it received a 76% Rotten Tomatoes rating, its sequel was really rotten at 28%.
The Greek underworld meets James Bond in For Your Eyes Only.  Nominated for Best Original Song, it lost out to Arthur's Theme from the movie Arthur.  Some consider this the worst of the Bond films, but the scenery is gorgeous.  Did you know that the above poster was considered so risque at the time that the Los Angeles, Boston and Pittsburgh newspapers edited it?
Never On Sunday (1960) and Z (1969) are two Greek films highly praised but now nearly out of our conscience.   So how about . . .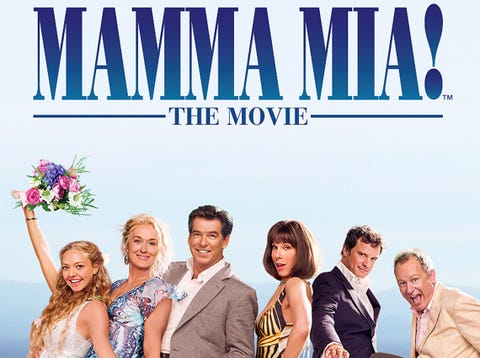 The preview of Mamma Mia (2008) had ABBA photographed together for the first time since 1986.  Perhaps they were celebrating that this $40 million budget movie was about to gross $615 million worldwide.   For the sequel, the Rotten Tomato score doubles, the budget doubles, but the gross is slashed by 40%.   The Greeks would say that's what happens when you move the filming to Croatia.
Santorini, Angelina Jolie, and Gerard Butler would seem to bode well for Lara Croft: Tomb Raider-The Cradle of Life.  Paramount blamed the failure of the film on the poor performance of the then-latest installment of the video game series, Tomb Raider: The Angel of Darkness.  It's always the other guy's fault.  At least Santorini performed well.
Filmed in Greece, Captain Corelli's Mandolin was a box office bust.  To make matters worse, Penelope Cruz, a Spaniard, is hired to play a Greek girl.  She received a Golden Raspberry nomination for worst actress.  Although I am not sure about how much different that is than Nicholas Cage, a Californian, playing an Italian captain.  At least Cephalonia looked great.
Pictures to follow . . .