Given the recent heat wave, I decided to spoof movie lists by making my own list of the best movies dealing with the heat.
1. Fahrenheit 451  —  originally made in 1966 starring Julie Christie, it had a 81% Rotten Tomatoes rating.  The remake by HBO this year was not as well received.  What could be hotter than the temperature to burn books?
2. Body Heat  —  released in 1981, a Florida heat wave turned Kathleen Turner's body temperature to about 400 degrees.  This erotic thriller is a classic also starring William Hurt and Richard Crenna.  One of the best quotes by Turner's character,  "You aren't too smart.  I like that in a man."  Ouch!
3. In The Heat Of The Night  —  another classic (1967) starring Sidney Poitier and Rod Steiger, set in the South during a time racial tensions were hot (let's say 212 degrees-boiling).  Poitier was concerned about filming in the South.  The title song was sung by none other than Ray Charles.  The famous quote, "They call me Mr. Tibbs."
4.  Lawrence of Arabia  —  winning seven Oscars in 1962, it starred Peter O'Toole on a camel in the desert at a temperature of 128 degrees (just guessing).  Co-starring Alec Guinness, Anthony Quinn, and Omar Sharif, it currently sits at 7th on the American Film Institute's greatest films of all time.
5. Red Heat  —  a buddy cop action film (1988) starring Arnold Schwarzenegger and James Belushi.  This was the first American film given permission to shoot in Moscow's Red Square.  Arnold is a Russian narcotics cop and Belushi is a Chicago detective.  Arnold tells him, "This Chicago is a very strange city.  Your crime is organized, but your police is not."  I give this 105 degrees because Arnold was paid $8 million for this movie.
6.  The Heat  —  another buddy cop action film (2013), this one starring Sandra Bullock and Melissa McCarthy.   Studio executives actually were worried that girls wouldn't want to see a cop action movie and guys wouldn't want to see two girls holding a gun. The movie grossed $229 million on a $43 million budget.  Hearing the aforesaid sexist statement, the temperature on a feminist's forehead is now 100.2 degrees.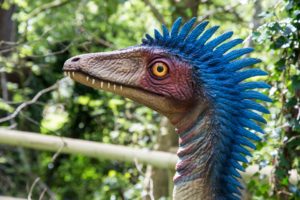 Enough silliness, but I thought you needed more dinosaur eyes.  Jurassic World: Fallen Kingdom falls to a mere $60 million earned this weekend in the US, with a $932 million earned worldwide.  Incredibles 2 fell to $45 million in the US for a total of $632 million worldwide.  The mere mortal films of Sicario 2 and Uncle Drew made $19 million and $15.5 million in the US, respectively.  Not a bad weekend at the box office.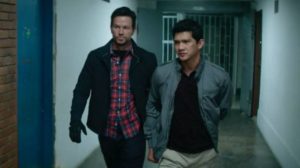 We are seeing a lot of Mark Wahlberg on the tube lately so he must have a movie out soon.  Mile 22 is set to be released on August 17 and co-starring John Malkovich, Lauren Cohan (Walking Dead), and Iko Uwais (Indonesian martial arts star).  Iko's character has info that his government is going to attack the US and Wahlberg must get him to an airport 22 miles away for transport to the US.  His government wants him dead.  In 2006, Bruce Willis had to get a witness 16 Blocks to testify before a grand jury in a police corruption case except lots of cops wanted him dead.  Been there, done that, except Iko looks like he has mad skills in the trailer.  Get ready to see lots of Iko.  Netflix has hired him to star in Wu Assassins, about a chef who must round up the powers of the ancient triad and restore balance.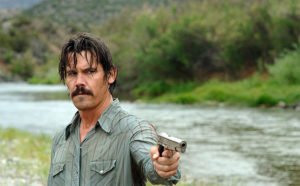 If you haven't had enough Josh Brolin lately (Avengers, Deadpool, Sicario), turn immediately to Netflix and you will find The Legacy of a Whitetail Deer Hunter out just today.  A comedy, Josh is Buck Ferguson whose occupation is to hunt deer on his TV show.  He is divorced and wants to re-connect with his son by taking him on a deer hunt, chronicled by his cameraman.  Sounds different and Brolin is a fine, fine actor but early reviews are not kind.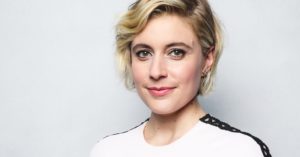 After her success with Lady Bird, Greta Gerwig is one of the hot new directors.  Even though Little Women seems like it has been made a hundred times, she is set to put her stamp on this Civil War classic by Louisa May Alcott.  And when you are the hot new director, you get stars like Meryl Streep, Emma Stone, Saoirse Ronan, and Timothee Chamalet to join the cast.  Not bad for a 34 year old from Sacramento.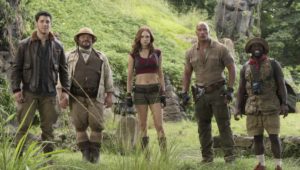 After Jumanji 2 made $961 million worldwide, Sony wants the third installment on the big screen in 2019.  Filming is supposed to start July 2019, the script is still in process, so the turnaround time will be short.  As of now, all the stars are to return: Dwayne Johnson, Jack Black, Karen Gillan, and Kevin Hart.  Since they destroyed the game cartridge, the writers will have to get creative.  I am sure they will manage.
If you hear insects buzzing around your head, it is because they want you to read last night's review of Ant-Man and the Wasp.  It won't sting you!