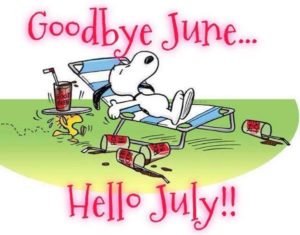 The July movies will be here before you know it. Let's see what's in store (or theaters)!
July 6
Ant-Man and the Wasp — Paul Rudd is Ant-Man and Evangeline Lilly is The Wasp. It's about time that those sexist producers in Hollywood put a lady in a tight-fitting spandex outfit and let them save the world says TMJ with tongue-firmly-in-cheek.
Whitney — Last week, I noted this was coming soon, just sooner than I expected. It has an early Rotten Tomatoes rating of 83%. Like all documentaries, it promises never-seen-before archival footage, exclusive recordings, and rare performances. Let's hope it does her legacy justice.
July 13
Hotel Translylvania 3: Summer Vacation — I was not a fan of this series but the trailer with Count Dracula trying to get Siri to set up a date really hit the sweet spot for me. The Count is overworked and his daughter convinces him he needs a vacation. She doesn't tell him it will be on a cruise ship. He falls for the Captain of the ship, Ericka, who hates monsters.
Skyscraper — The trailers for this movie have been out for some time as we see The Rock jumping from a construction crane toward a burning skyscraper. Dwayne Johnson warns his bosses that no building is impenetrable, but they are skeptical until terrorists attack. As usual, the Rock must save his family and the world. I predict a happy ending and some great CGI.
July 20
Mamma Mia! Here We Go Again — You either love these or you don't. The last one made $615 million on a $52 million budget. In 2008, it made more money than Iron Man, Wall-E and Quantum of Solace. And so, it gets a bigger budget and more actors who will be able to sing better than Pierce Brosnan. Sophie is now pregnant and she learns how her mother, Donna, met her fathers and raised her.
The Equalizer 2 — TMJ was really surprised that Denzel Washington wanted to reprise his role as Robert McCall. It made $192 million on a $73 million budget; good, but not spectacular. Maybe he likes to kill hundreds of bad guys in two hours. But he has never made a sequel before. Is he now becoming the aging action hero like Liam Neeson, Bruce Willis, and Arnold Schwarzenegger? Of course, after Fences and Roman J. Israel, Esq., maybe he just needed a bankable role.
July 27
Mission: Impossible — Fallout — Ethan Hunt and his IMF crew save the world again and we will watch it and love it. Especially, we will watch the stunts performed by Tom Cruise and wonder if he is crazy or has a death wish. Did I mention we will love it and clamor for yet another opportunity to see Tom try to kill himself?
??????? — No, that is not the name of a movie, just me trying to figure out which movie theaters will be dumb enough to put up against the IMF force. I was unable to accomplish the mission. You are on your own. Your guess is as good as mine.
Late last night, the review for Jurassic World: Fallen Kingdom was posted. Do the dinosaurs die off in another cataclysmic event? Or, as Dr. Ian Malcolm would say, "Life finds a way to survive, for a sequel?"