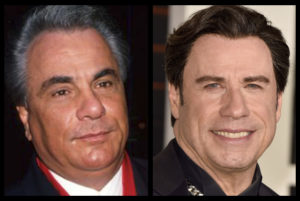 If Gotti was a passion for John Travolta, imagine how crushing it must be to be ignored. For a movie in limited release, a movie must have at least 40 reviews before Rotten Tomatoes gives it an official rating. Gotti has only been reviewed by 28 critics. Of course, that is the good news. Of those 28 critics, not one has given it a positive rating. Surely, a movie shot in Cincinnati would have something going for it. Alas, such is not the case. Perhaps if you were a Gambino family follower, this movie would be easier to follow. As edited, it is a mess.
The movie follows Gotti from the 70's thru the 90's as he rises through the ranks of the notorious crime family. Mentored by Aniello Dellacroce, an underboss, Gotti chafes at the restrictions placed upon him by Frank DeCicco, a boss higher up the chain. As Gotti gains more power, Frank wants to break up Gotti's crew. Gotti's close friend, Angelo Ruggiero, is caught on tape saying some unkind things about Frank (imagine that), and a family feud is about to spread across New York. And this is occurring as a backdrop to multiple trials as the feds try to convict Teflon John Gotti.
John Travolta and his wife Kelly Preston, play Mr. and Mrs. John Gotti. Both are suitable for the parts. Travolta looks a lot like Gotti; apparently, he swears like Gotti, too, since the F___ word is, by far, the most frequently used word in Gotti's vocabulary. Dellacroce is acted by Stacy Keach, who seems to be having a resurgence in his acting career lately. Pruitt Taylor Vince is Ruggiero and it is a requirement that he be in all mob movies. Spencer Lofranco is John Gotti, Jr. and was the best of the lot as he tried to distance himself from his father.
If you want entertainment, you will have more fun reading the reviews. Adam Graham says " I'd rather wake up next to a severed horse head than ever watch Gotti again." Brian Tellerico says "He may have been a murderer, but even Gotti deserved better than this." You get the idea. When you have to drive 30 miles to see a locally made movie, the major theaters have sent a big message. Don't bother! With a budget of $10 million and lousy reviews, you will be able to see this soon at a location convenient to you, i.e., your living room. Netflix or Amazon will pick it up cheaply as the producers will want to recover as much as they can as quickly as they can. If Gotti can avoid 12 more reviews, it may be able to forestall the dreaded 0% Rotten Tomato rating. Maybe that would be a badge of honor, rather dishonor. Even Joe Deters (short appearance as a judge) couldn't save this turkey.