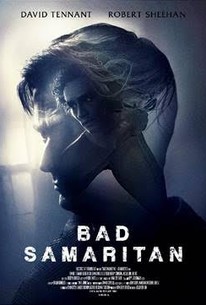 If a movie is to teach you something, Bad Samaritan will cause you to re-think ever giving your car to a valet service. Much better than expected, if you like the TV show Criminal Minds, you will like this flick. Of course, when a serial killer is the main character, one can expect lots of violence and sudden surprises. Overall, it kept my interest. Would I recommend it? Yes, if you like this genre. It's better than regular TV, if perhaps not as good as an Amazon or Netflix original.
Sean is a restaurant valet who gladly parks your car in your garage and robs you while you are having dinner. He picks the wrong house and finds a young woman chained therein. Unable to free her, he calls 911. But Cale is too smart for him, He has another brunette over who gladly advises the police that there is no victim in this house. Sean decides he must turn himself in so the police will believe him. No such luck. And now, Cale decides to take revenge on Sean, his family, his girlfriend, and best friend.
Most of you will remember David Tennant from Broadchurch. He does have the wild eyes that we come to expect from a serial killer. Robert Sheehan was also good as Sean, his Irish accent in full brogue. Kerry Condon plays the kidnap victim and deservedly gets more screen time as the movie progresses.
One of the critics wrote that "Too often, Bad Samaritan has all the cleverness of a shovel to the head." Ouch. Double ouch. If so, why is the audience score so high? Maybe we like a movie that doesn't try to be too clever once in awhile. AMC has $5 Ticket Tuesday. Plus, you can get popcorn and a drink for $5. What a deal! This allows folks to see some movies they might not otherwise peruse. You might want to check it out. Bad Samaritan was clearly worth the $5 no matter what the critics say.