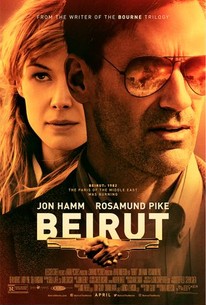 After watching a juvenile attempt at making a movie last night (Blockers), it was nice to see that there are some adults in charge somewhere. Beirut is like a fine wine. You want to savor it, especially if you like the foreign intrigue genre. If you don't go to the theater to see it, mark it down to see at home. If you liked Jon Hamm in Mad Men, he is even better here. Some critics are suggesting this could be a franchise-type role for him. Cloak and dagger fits him well; sort of like marketing, isn't it?
In 1972, Mason Skiles is a diplomat in Beirut whose career is on the upswing. He and his wife are sponsoring a 13 year old boy (Karim), a refugee who, unbeknownst to them, has a terrorist brother. As you might imagine, lots of "agencies" want to talk to Karim. His brother attempts to "rescue" Karim at a diplomatic function, and Mason's wife is killed in the melee. Mason's life and career go into a tailspin, including alcoholism. Ten years later, Mason is working as a labor mediator in the States. His best friend (Cal) in Beirut is kidnapped, and the abductors will only negotiate with Mason. No one trusts Mason, and he trusts no one. Every player has their own agenda. Cal must be rescued or killed before he talks. This is Beirut after years of civil war, and the Israelis want to invade to stop the attacks on their country. Will the CIA determine that Mason is expendable, too? Lots of twists and turns here.
Like Jon Hamm, this is a much better role for Rosamund Pike than her turn in 7 Days in Entebbe. She plays an undercover CIA agent tasked with keeping Mason alive. Although nothing explicit, you feel the romantic tension between the two. The government officials in charge (I say that tongue in cheek) are played by Dean Norris and Shea Wigham. You will recognize both of them from scores of other movies and TV roles.
This movie received much criticism prior to its release because it was not filmed in Beirut and contained no Lebanese actors. While the latter is likely a legitimate criticism, the cost of insuring a film made in the Middle East was probably cost-prohibitive. As I have said previously, I am not a fan of the hand-held camera. It was used here to convey suspense and confusion, so I will let that slide since its use was minimal. Also, in movies with double-dealing and subterfuge, it is sometimes hard to tell who is on whose side. But, of course, that is the charm and purpose of its class. Overall, this is an entertaining movie, one that also gives some background and insight into the complexities of the Middle East. Interesting and informative, what else can you want?