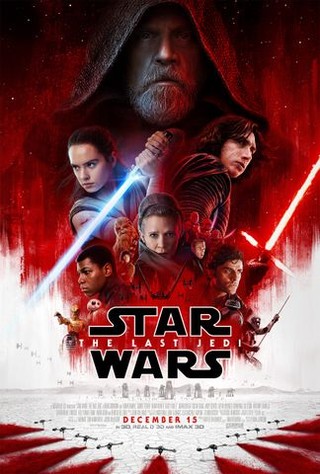 Not a perfect movie, not worthy of the grand finale, but suitable as as setup for Episode IX. Too much angst for my taste, especially in the middle, but the last 45 minutes was very good. It's fair to say that the movie is 30 minutes too long, but it was worth the wait, if not quite worth the hype. Vice Admiral Amilyn Holdo is a Resistance leader without any fire, entirely unbelievable. Kylo Ren, on the other hand, is at one with the dark side.
The First Order and Supreme Leader Snoke have the Resistance and General Leia on the run. Kylo has a chance to kill his mother, as he did his father, but hesitates. Meanwhile, Rey tries to convince Luke Skywalker to join his sister and the Resistance. Still despondent over his nephew's turn to the dark side, Luke prepares to be the last Jedi. Ren and Rey each believe they can turn the other to their cause, thus changing the course of the fight. And, through all of this, we again see Chewbacca, R2-D2, C-3PO, BB-8, and other characters, new and old.
Mark Hamill as Luke and Carrie Fisher as Leia get substantial screen time; a very nice tribute for both. Daisy Ridley continues as Rey, a good choice for one struggling to understand her power and her place in the scheme of things. Adam Driver is the star as Ren, conflicted but easily capable of filling the role of Darth Vader. Andy Serkis, so good as Caesar in Planet of the Apes, is pure evil as Snoke. Laura Dern was wasted as Holdo, too low-key and soft spoken to lead this desperate group of survivors. Domhnall Gleeson as First Order General Hux was a scene stealer, as was Kelly Marie Tran as Resistance member.
Should you see this movie? If you want to be part of next week's conversations at home, office or Christmas parties, absolutely. No matter what one thinks of this movie, it will be THE topic. A $200 million opening insures that. If you have never seen a Star Wars movie, I suggest you read up so you can better understand the relationships of the characters. While the battles, the weapons, the robots and the animals continue to impress and amaze, it is still the story that draws us in, even after 40 years. We want, nay we demand, to know how this ends. And, the ending can't come too soon!